Everybody Builds Workforce Programming
Everybody Builds and its partners – the largest Developers, Anchor Institutions, Contractors, and Unions in Philadelphia – are committed to diversifying Philly's construction workforce. We are building pathways for underserved communities and growing the pipeline of skilled construction workers to meet the demands of the billions of dollars in development planned in the Philadelphia area over the next 10 years.
Everybody Builds Workforce Goal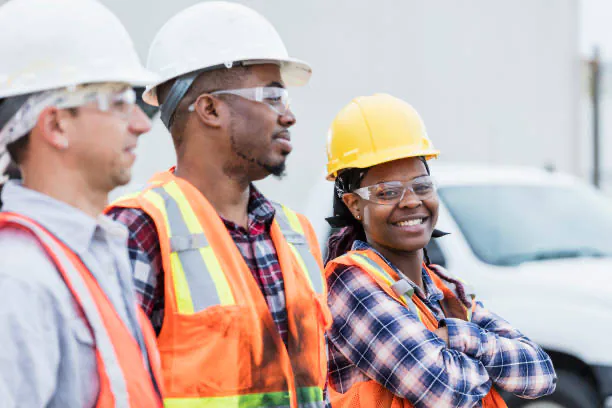 To ensure Philadelphia's construction industry reflects the rich diversity of our communities. We are working to broaden access to life-changing career opportunities in Union construction, supporting programs to develop highly skilled workers with family-sustaining wages and benefits, thereby creating economic security and a pathway out of poverty and into the middle class. 
Benefits of Everybody Builds
For communities: Eliminating barriers to entry into union construction, increasing Union Pre-apprenticeship and Apprenticeship Readiness programs for historically marginalized communities, increasing access and success for individuals who historically have not had access to Union construction jobs.
For Trades and workforce programs: Attracting, retaining, and supporting diverse talent into the pipeline of future trade workers by providing awareness and recruitment support, wrap-around services, barrier reduction, mentorship, and employment connections.
For contractors and owners: Ensuring the readiness of a skilled and diverse labor force to achieve diversity objectives and meet the increasing demand for construction labor critical to shaping the physical landscape of our communities, neighborhoods and city skylines.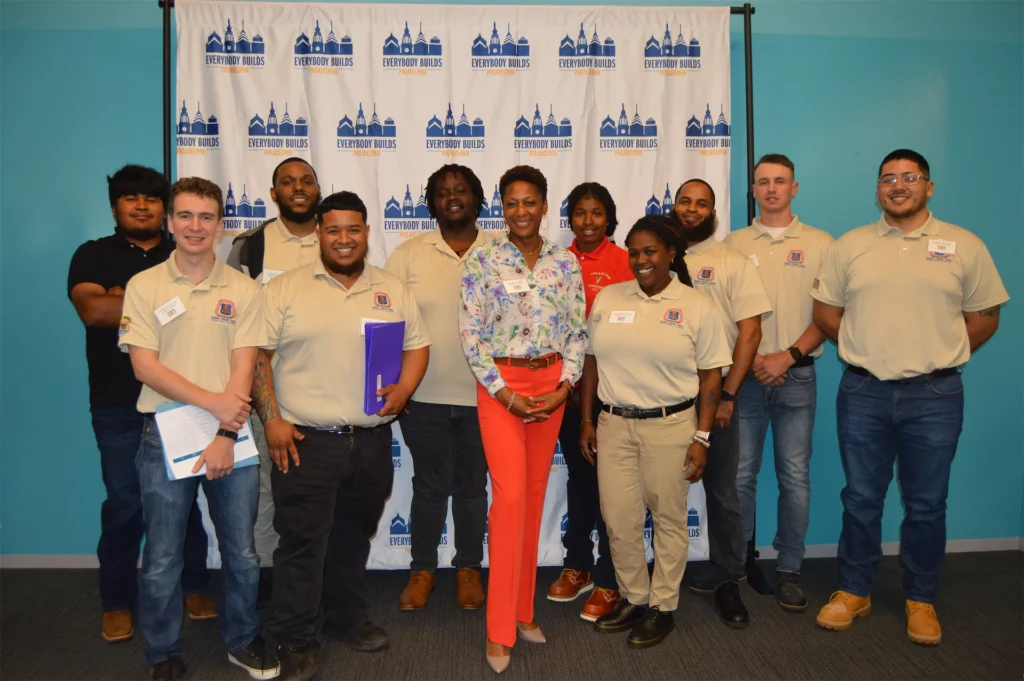 Why Consider Apprenticeship in the Construction Industry
At Everybody Builds, we recognize the critical link between Pre-Apprenticeship and entry into Union Apprenticeships. We understand that a diverse and inclusive construction industry is built upon a solid foundation of skilled and motivated individuals. Pre-apprenticeship programs serve as a launching pad for individuals from various backgrounds to gain the essential knowledge and hands-on experience needed to excel in the construction trades. By fostering strong relationships with Philadelphia's trade unions, we strengthen the pathway from our program partners to transition into Union Apprenticeships, ensuring they have the support and opportunities necessary to thrive in the skilled trades. This pathway not only diversifies union membership but also strengthens the future of Philadelphia's construction industry.
Benefits of Becoming an Apprentice
Learn on the job and get a head start on your career through the Pre-Apprenticeship and Apprenticeship model!
Union construction workers start as apprentices paid roughly $20 per hour which increases over 2 to 5 years to roughly wages starting at $40 per hour!
Variety and Opportunity to enhance your career and skills over time!
With some programs, complete a 2-year degree while getting paid and learning on-the-job in a Union Apprenticeship program!
Skip the time, cost and debt of a four-year degree and jump into paid training and apprenticeship!
Family sustaining wages with annual salaries ranging from $50k-$118k according to U.S. Bureau of Labor Statistics (2022)
Pre-Apprenticeship Pathway to Union Apprenticeship
Pre-Apprenticeship programs provide a gateway for local community residents to gain access and preparation for Building Trades registered apprenticeship programs. Programs are run by Building Trades groups or workforce organizations to give individuals the hands-on training, understanding of the construction worker's way of life, and basic skills needed to be ready to apply for the official apprenticeship programs.
Everybody Builds Pre-Apprenticeship Program Partners:
Everybody Builds is partnering with Union Trade Pre-Apprenticeship programs or those creating a pipeline into Union apprenticeships including: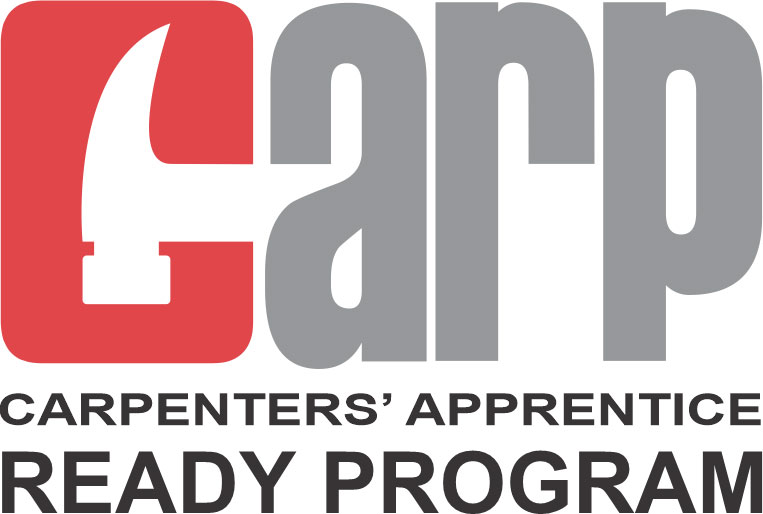 Carpenters' Apprentice Ready Program
Carpentry is a skill that serves as a solid foundation for a fulfilling career, one that can elevate and transform lives. If you've never considered the possibilities of a carpentry career or lacked avenues to explore it further, look no further than the Carpenters' Apprentice Ready Program (CARP). This program is designed to equip aspiring individuals with the necessary tools to excel as Union Carpenters right from the start.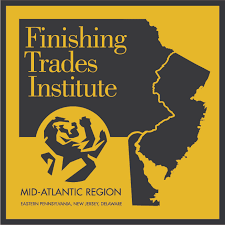 Finishing Trades Institute (FTI) Vocational Intern Partnership Program (VIP)
The Finishing Trades encompass commercial and industrial painting, glazing, glasswork, drywall finishing, and sign and display. These trades specialize in enhancing the appearance, protection, and longevity of structures, ranging from buildings and bridges to ships and stadiums.
The VIP Program is a collaborative effort with the Philadelphia School District (PSD) and FTI of the Mid-Atlantic Region. It allows juniors and seniors from the PSD the opportunity to explore Glazing, Bridge Painting, Commercial Painting, Wall Covering, and Drywall Finishing through a 15-week introduction to the trades. If your school is interested in learning how to be part of the program complete the interest form.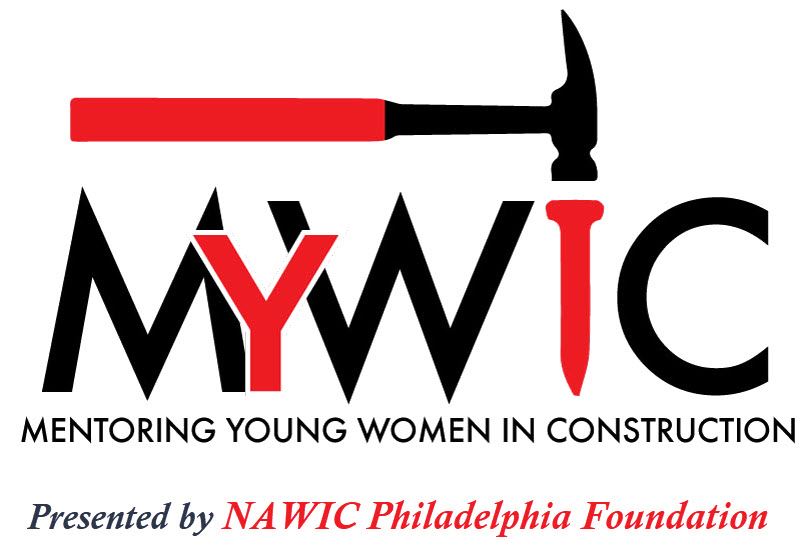 MyWIC is a FREE, construction industry, day camp for 7th through 12th grade girls in the Philadelphia region. The camp is designed to give girls hands-on experience to gain better knowledge of the industry and the multiple trades.   Girls experience the exhilaration of successfully performing tasks that promote leadership and team-building skills, as well as build self-confidence, self-esteem, and boost their overall self image.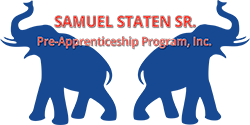 Sam Staten Sr. Prep-Apprenticeship Program (SSSPAP)
The Samuel Staten Sr. Pre-Apprenticeship Program (SSSPAP) aims to increase diversity in Philadelphia's construction trade by moving under-represented individuals into construction trade apprenticeships in Philadelphia.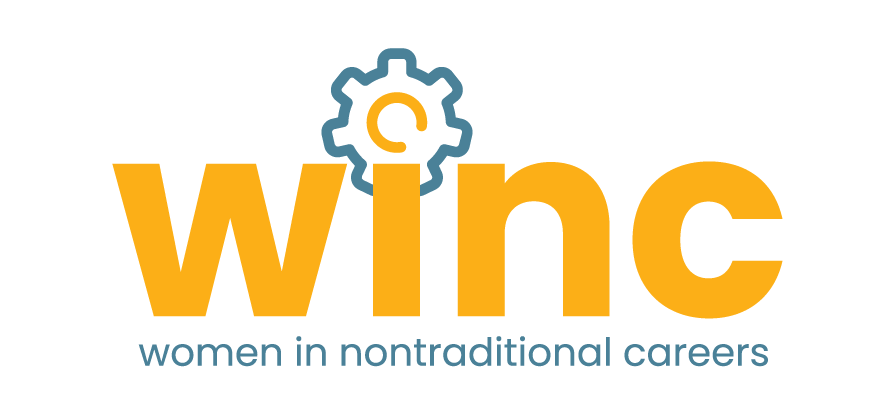 Women in Non-Traditional Careers (WINC)
Women in Nontraditional Careers (WINC) is a collaborative Philadelphia Pre-Apprenticeship program to support, increase and advance the participation of women in trade careers.
Interested in learning more?
To learn more or be considered for one of the Pre-Apprenticeship Partner's Programs complete this form:
Other Resources to learn more